Paycheck Protection Program (PPP) Loan Forgiveness
Learn if your eligible and how to apply.
Easy online application
Small business support
PPP Loan Forgiveness Information
If you received a PPP Loan through 7 17 Credit Union, you are now eligible to apply for PPP Loan forgiveness. Please note that all PPP Loan payments are deferred for 10 months following the end of your covered loan period. You have until the end of this deferred period to apply for forgiveness.
Please note that PPP Loan forgiveness is not automatic. You will need to submit a completed application for consideration. The forgiveness application can be found below. PPP Loan forgiveness is also not guaranteed. If, after reviewing your application and documentation, the Small Business Administration determines all or a portion of your PPP Loan is ineligible for forgiveness, you will be required to start making payments on any unforgiven portion.
While 7 17 Credit Union is proud to help facilitate the Paycheck Protection Program, it is your responsibility to provide a completed forgiveness application that certifies eligible use of proceeds, along with all required supporting documentation.
PPP Loan Forgiveness FAQs
Please follow these steps to apply:
Login to your Lucro account using the same credentials you used for your PPP Loan application. You can only apply for PPP Loan forgiveness though this online application. We are not accepting PPP Loan forgiveness applications in our branches.
On the borrower dashboard, click "New Forgiveness Application" and follow the prompts.
Yes. Please see this helpful 9-minute demo to help you complete the PPP Loan forgiveness application.
PPP Loan forgiveness questions may be submitted to Lucro's Borrower Dashboard by clicking on "Borrower Messages" (see red circled area below):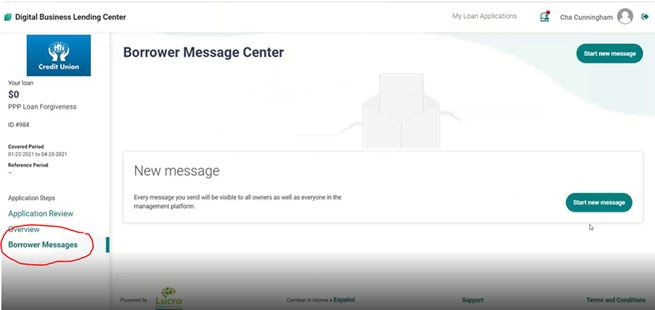 Lucro's online application is designed to work with a computer using Google Chrome as a web browser. You may encounter technical difficulties with the PPP Loan application if you are using a smart phone, tablet or a web browser other than Google Chrome, such as Internet Explorer or Safari. Some users have reported glitches such as unclickable fields, difficulty with uploading documents, losing information, being unable to advance within the document due to using the incorrect browser or mobile device when accessing Lucro's application.
If you are using a PC with Google Chrome and still experiencing technical difficulties, you may contact Lendingcentersupport@lucro.org.
Visit the SBA's forgiveness website for more information or contact your accountant/tax professional. Additionally, Lucro's online application and underwriters will prompt you for the required documentation.
A borrower can apply for forgiveness once all loan proceeds for which the borrower is requesting forgiveness have been used.
Lucro requires that all uploaded documents must be in the following formats: pdf, docx or xlsx. Lucro does not accept other image files such as jpeg, jif or png. This means you cannot take a photo of your taxes info and then upload to Lucro. Check out this article on how to convert a picture to a pdf.